ABOUT OUR JEWELRY
Combining our expertise with your vision, we craft truly one-of-a-kind jewelry pieces that are sure to delight with their beauty and quality. Our manufacturing process allows us to place you in the lead role of designer, as we create the jewelry of your dreams. Whether you hope to replace a lost family heirloom or want to create a personalized signature piece for a loved one, our skilled jewelers can provide as much or as little guidance as desired. From concept to final product, we promise stunning results with every piece. 
Shop All
Custom Jewelry as Unique and as Rare as You
From pendants and earrings to customized engagement rings, every Witz Jewelry Design item is backed by our industry-leading, 24-month warranty. Discover the beautiful possibilities by contacting the Witz family of jewelers now. 
SHOP NOW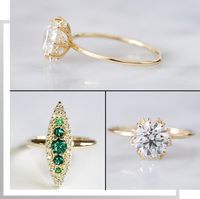 Custom Engagement Rings
With Witz Jewelry Designs, your vision of the perfect ring can be lovingly created in just weeks. Whether you know exactly what you want or would prefer the assistance of a professional jewelry designer, we work as your partner in creating a ring that she'll always be proud to wear. 
SHOP NOW
Signature Collections
 Whether you're searching for the perfect gift for a loved one or want a corporate piece that precisely captures and displays your brand, our craftsmen strive for stunning results that exceed your every expectation. Allow us to impress by getting started with a personal design consultation now. 
SHOP NOW